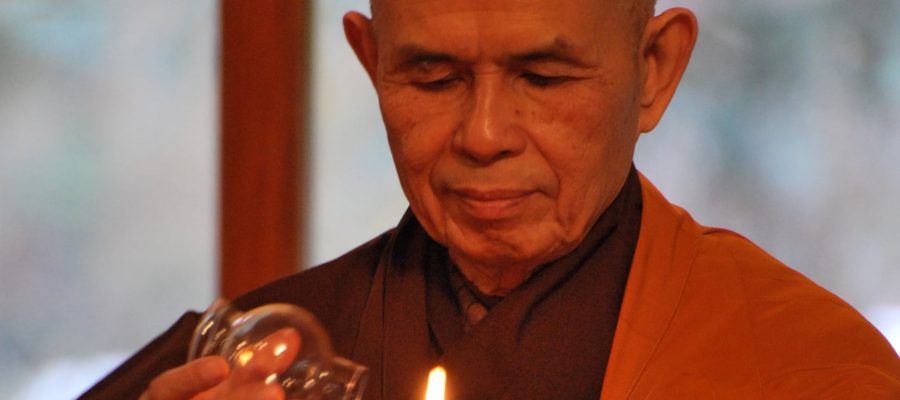 Dear Friends, Dear Beloved Community,
With a deep mindful breath, Plum Village announced that our beloved teacher Zen Master Thich Nhat Hanh passed away peacefully on 22nd January, 2022.
I am a continuation, like the rain is a continuation of the cloud.

Thich Nhat Hanh
Thay has been the most extraordinary teacher, whose peace, tender compassion, and bright wisdom has touched the lives of millions. Whether we have encountered him on retreats, at public talks, or through his books and online teachings–or simply through the story of his incredible life–we can see that Thay has been a true bodhisattva, an immense force for peace and healing in the world. Thay has been a revolutionary, a renewer of Buddhism, never diluting and always digging deep into the roots of Buddhism to bring out its authentic radiance.

Letter, 22.01.2022, The Monks and Nuns of Plum Village, France
Full details of the memorial services are available here: https://plumvillage.org/memorial/
Our brothers, sisters and siblings in Plum Village have shared these short videos to help ground us and as preparation to participate in the ceremonies:
Jan 22: Memorial Service – Live from Plum Village France
Beginning with a guided meditation, this ceremony honours our teacher including incense offering, chanting, and readings. This ceremony was offered primarily in English (1h42). It began at 9:30AM CEST (8:30am GMT) and can be watched here:
The community at Plum Village have shared Memorial Practice Resources here, which include guidance on creating a ceremony at home, and a guide to creating an Online Sangha Session (1h30) to Honor our Teacher, Thich Nhat Hanh.
With a bow in deep gratitude to Thây. And a big hug to our community.
On Behalf of Mindfulness Ireland,
Mick, Sarah and Andrew